Love pizza but hate all the unhealthy carbs and calories? Try this simple nearly paleo cauliflower pizza crust recipe and never look at pizza the same way again.
Nearly Paleo Cauliflower Pizza Crust Recipe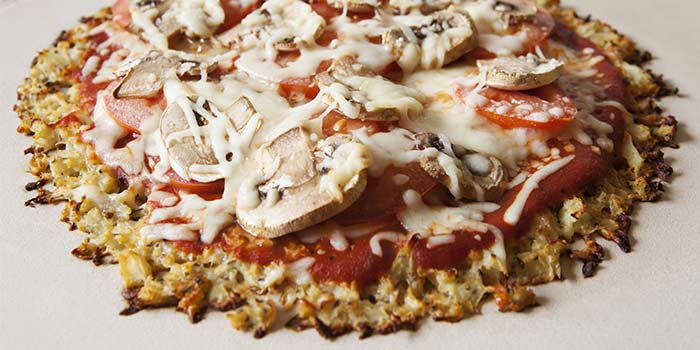 Ingredients:
2 Cauliflower Heads
3 Eggs
2 Cups Parmesan (shredded)
1 Tbsp Sea Salt
1 Tbsp Italian Seasoning
Directions:
Preheat oven to 425 degrees.
Put cauliflower in food processor and pulse until it resembles rice grains.
Spread the cauliflower evenly on a baking sheet and bake for 10 minutes at 425.
Remove cauliflower from the oven and place it into a cheesecloth.
Once it cools down, squeeze the cauliflower inside the cloth to remove any excess moisture.
Place all the ingredients in a bowl and mix well.
Spread the cauliflower mixture evenly on a baking sheet and bake until browned at 425 degrees.
Flip the cauliflower mixture once browned and bake for another 10 minutes.
Remove from the oven, allow it to cool and then top it with your favorite pizza ingredients.
Bake one final time until cheese is melted.
Enjoy!
Crispy Cauliflower Pizza Crust – Tasty & Healthy
Pizza has long been a family favorite, even the pickiest eaters drool at the sight of a crispy, cheesy pizza pie. The major problem with most pizza is the crust it sits on, filled with unhealthy flour that soaks up grease like a sponge. This cauliflower pizza crust recipe offers a great alternative to conventional pizza crust. It is crispy, it is drop dead delicious and it is a fantastic way to incorporate more veggies.
Make one big pizza for the whole family, or make individual pizza crusts that everyone can top themselves.
Nutrition Facts for 100g of Cooked Cauliflower
23 calories
2 grams of protein
2 grams of fiber
Cauliflower is a great source of vitamin C, vitamin K, vitamin B6, Folate, manganese, potassium and phosphorus.
Anti-Inflammatory Golden Milk Recipe
Eating Healthy Is Now A Mental Condition
Breastfeeding Leads To Higher Adult IQ says study